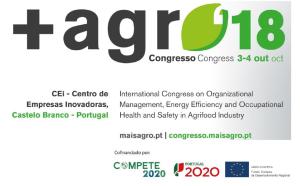 +Agro - Congresso Internacional +Agro - 3 e 4 de outubro 2018 - CEi (Castelo Branco)
ABOUT +AGRO:
+AGRO is a technical and scientific international event devoted to food science and technology. It brings together researchers, scientists, policy makers, professionals and students from multidisciplinary food-related fields to share the latest advances in the current scientific knowledge, with industrial relevance and new developments in food science and emerging technologies, devoted to help organizational management, energy efficiency and occupational safety and health.
TOPICS:
Novel and emerging technologies for food processing
Innovations in Food
Meat Science and Technology
Processing of horticultural products
Dairy technologies and processes
Bakery and pastry trends and innovation
Occupational Health and Safety
Energy Efficiency
Organizational Management
ICT in AgriFood industry
Food safety and security
Waste reduction and sustainability
Entrepreneurship
Knowledge transfer, Skills and Qualifications
Submission
Abstracts should describe original and unpublished work on the topics of the congress. Contributors should submit an abstract in PDF format by March 31, 2018 after registering to the event. Further information can be found on the congress website: http://congresso.maisagro.pt
Only electronic submissions through Easychair application available on the website will be accepted: https://easychair.org/conferences/?conf=agro2018;%20(%20.pdf%20only)
Submission implies that at least one of the authors has to register and to present the communication at the congress if the paper is accepted.
Important Dates:
Event: October 3-4, 2018 - To participate in the event registrations are open until October 2, 2018
Abstract due: March 31, 2018
Acceptance notification: April 30, 2018
Full paper due: June 30, 2018
Review notification: July 31, 2018
Final paper due: September 7, 2018
Early Registration: until August 31, 2018
For more information please visit the website at:http://congresso.maisagro.pt
Important information:
The official congress languages are English and Portuguese.
Organizing institutions:
The +AGRO Congress is supported by the above institutions and by the Operational Program of Competitiveness and Internationalization - COMPETE 2020 (www.poci-compete2020.pt)
We strongly encourage you to submit papers to the +AGRO 2018. If your colleagues are interested in submitting a paper, please forward them this information. If you have any further questions, please do not hesitate to contact with us.
Thank for your interest and I hope forward seeing you in Castelo Branco.
Sincerely,
The Organizing Committee,
Pedro Dinis Gaspar
Chair of +AGRO Congress
Assistant Professor, PhD
Coordinator of Master of Science in Mechanical Engineering
Coordinator of Master of Science in Industrial Engineering and Management
From 03.10.2018 to 04.10.2018